CML team drivers with a clean sweep at the Silverstone Winter Series
Thursday, Mar 14, 2013 09:57am
3/14/2013
By Mike Garrison
LiveRC.com
CML Race Report:
The Silverstone Radio Control Model Car Club were host to a fabulous six round winter series that has proved extremely popular with the racers, each event being over-subscribed despite being held on a rather untraditional Saturday.

A different track layout was used each time and the designs were enjoyable to drive and testing for the drivers, laid out on very high bite astro-turf with some additional slippery surfaces thrown in along with a variety of jumps and ripples.
The 2wd was the most popular class with a multitude of national A finalists on show and it was CML/Associated/Centro driver Tom Yardy that showed the way – taking the championship with a perfect score using his Centro C4.1 and utlising the brand new Savox Razor speed controller to control his Reedy power.
The 4wd class was taken by Chris Bowater after some close racing. Chris was using the Team Associated B44.2 and was also powered by Reedy.
There was also a full compliment of 2wd Short Course trucks racing at each meeting and it was a strong showing by the Team Associated SC10 FT with the truck taking all the pole positions and all the wins in the hands of Liam Galvin and Simon Chambers. With all the points tallied up Liam Galvin's Reedy powered SC10FT took a convincing win to complete the Team Associated title white-wash.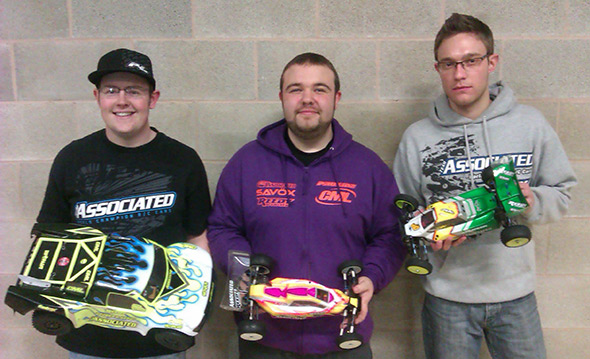 Many thanks to Silverstone for an excellent series!