Jon Howells wins at round five of the Nitro-X-Cross Series
Thursday, Mar 21, 2013 12:01am
3/21/2013
By Mike Garrison
LiveRC.com
CML Race Report:
Round 5 of the Nitro-X-Cross series finished up this past Sunday with the sun shining at Frankley Model Car Club.
Jon Howells driving his Team Associated RC8.2 took the TQ after 4 Rd's of qualifying showing when life hits 40 you still can show the young and up and coming kids a thing or two, Truggy TQ went to Lloyd Pitt, Driving his Team Associated RC8T.
Truggy Final was mixed in with the Buggy C Final; Lloyd Pitt won the final with Mick Butler in 2nd Place 16 seconds behind.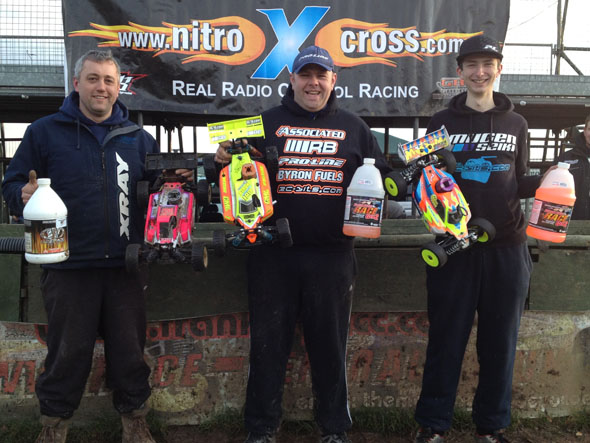 Buggy A Final had 12 drivers in there of which there where 4 Team Associated RC8.2, Jon Howells 1st on the grid with Xray Driver Colin Brennan 2nd and Mugen Seiki Driver Ashlee Owen 3rd, the front 3 got away clean and for the first 2-3 laps the pace was super fast and clean only for Colin to make a slight mistake to let Ashlee through and the race was on, Howler held Ashlee off but he was always there within 5-6 seconds at worst but Ashlee was catching and Jon knew it, mistakes from both drivers where inevitable at the pace they where going and Ashlee on lap 18 laid the fastest lap down of 43.19 and caught Jon up Ashlee got past Jon and for a couple of laps Ashlee looked comfortable but the ever experienced driver Jon would regain the lead and hold it to the end and crossed the line 3 seconds in front of Ashlee only for the buzzer to go 1 second after Jon crossed the line meaning Jon got the extra lap and Ashlee didn't. To show how close the drivers where, Jon's Average lap was 46.74 and Ashlee's was 46.88 for club level racing one of the best and cleanest racing I have seen.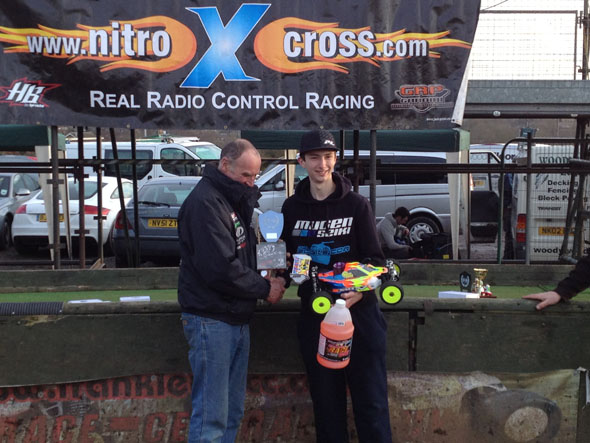 Ashlee Also went on to win the Nitro-X-Cross Series 2012/13, using the Savox Servo's, Byron Fuel and Voltz Batteries proving the winning combination from CML
On behalf of the 8 Drivers that Frankley Model Car Club & Nitro-X-Cross Team waited till 10.30am for to arrive we can only say Thanks its very much appreciated.