Talk-It-Up Tuesday with Adam Drake
Tuesday, May 7, 2013 08:00am
5/7/2013
By Mike Garrison
LiveRC.com
Welcome to LiveRC's weekly column, "Talk-It-Up Tuesday!" Here we spend a little time talking with industry icons including racers, manufacturers, team managers, developers, promoters, and everyone in between! Sit back, relax, and go behind the scenes as we interview them all!
---
In any motorsport there is legendary icons that will forever stand out as "hall of fame" racers. In R/C racing, amongst that list is an all American hero that was a dominant force in racing in the early 1990's, and now 20 years later is still one of the best in the world. For this edition of "Talk-It-Up Tuesday" we sit down with a driver that some recognize for his gas truck domination in the early days, or maybe his his multi-time national championship wins, or maybe his Psycho Nitro Blast Rocket Car. However you may know him, we know him as none other than "The Drake".

LiveRC: Welcome to "Talk-It-Up Tuesday" Adam! Let's start off by talking about how you got started in racing. When was your first race, and did you ever think you'd become the industry icon that you are today?
Adam:
I started racing electric in 1991 on the club level. In 1993 I started taking racing more serious and travelling to some regional and national level events for 1/10th electric. I got sponsored by Team Losi Racing in 1994 at 50% and have been running TLR products ever since. I've always loved racing and the R/C industry, but I didn't think it would become a career. Before moving to CA. to work for Horizon Hobby in 2000, I was working fulltime servicing waste oil furnaces for my father's business, going to college at night, and racing on the weekends.
LiveRC: When did you first become a factory sponsored driver?
Adam:
In 1999 I was put on the travel team for Team Losi Racing.
LiveRC: It seems like you have been with Team Losi since the beginning of time. Have you ever ran for any other major manufacturer over the years?
Adam:
I've been with TLR since 1994 (almost 19 years), but I have run for other 1/8th companies before TLR introduced the 8ight. I ran for Jammin Products for almost 7 years.
LiveRC: You've been a dominant force lately in nitro scene, especially in SoCal. For the past several years we've seen you racing essentially all nitro and no electric. Why nitro over electric?
Adam:
I actually started in electric and that's all I did for a number of years. When I moved to CA. to work for TLR it was to help with the development of the nitro program. The first few years I raced both nitro and electric, but I have since taken on more responsibly at work and focused strictly on nitro. I do still get out and run electric for fun on the club level and I run 1/8th electric at most of the races. .
LiveRC: When some people hear your name, they instantly think gas truck. Do you miss the gas truck class, and what "killed it" in your opinion?
Adam:
Yes, I miss gas truck. The great thing about 2wd 1/10th scale racing is it teaches you throttle control and patience. You couldn't drive a 1/10th gas truck full punch without suffering the consequences.. In my opinion there are a few things that killed gas truck racing. Tracks got bigger, jumps got bigger, ROAR stopped having a National Championship for the class, and because 1/8th racing took off.
(Left - The successful Jammin' X1 CR featured the signature Adam Drake paint scheme on the box art. Right - The last of the Team Losi race inspired gas trucks, the XXX-NT2, also featuring Drake box art.)
LiveRC: From our understanding you have been heavily involved in the 8ight 3.0 development. Would you say that you are taking over the role of former TLR designer/engineer "Dyno" Dan Hissam?
Adam:
I'm not taking over the role of designer/engineer, but I have always worked side by side with the engineers for all of our nitro vehicles. I relay the testing and on track performance to the engineer. We then work together and make the platform the best it can be for both the team driver and the customer.
LiveRC: Tell us a little about the new buggy. What the major advantages to the 3.0 over the 2.0 and other buggies on the market?
Adam:
The 3.0 still has a ton of corner speed and a light and nimble feel on the track, but you are able to drive the 3.0 a lot harder and it soaks up bumps and lands jumps better.
LiveRC: What is your personal favorite to race between nitro 1:8 buggy, e-buggy, and truggy?
Adam:
1/8th Nitro buggy.
LiveRC: If you could be a professional at anything other than R/C, what would it be?
Adam:
That's a tuff question. I'm so fortunate to have a job that I love in the R/C industry. If I wasn't in the R/C industry I think I would enjoy having a job in the motocross industry or some form of motorsports.

LiveRC: After years of all the guys chasing female R/C sensation, Ronda Skelton, you were the lucky one to tie the knot and marry her! How did you and Ronda first meet?
Adam:
Ronda and I have been friends since I moved to CA. We raced together at The Dirt in Hemet and Extreme Grand Terrace. It's pretty cool because we got to know each other over the years and become good friends before dating and eventually getting married.
LiveRC: Let's be honest here...how many guys have you taken out on the track for hitting on Ronda in the pits?
Adam:
LOL! Most guys are pretty respectful in R/C.
LiveRC: Best moment in R/C?
Adam:
I've had so many great moments in R/C, but the greatest would have to be winning the 2007 ROAR 1/8th Fuel Nationals. It was my first ROAR National Championship and the first ROAR National Championship for TLR and the 8ight.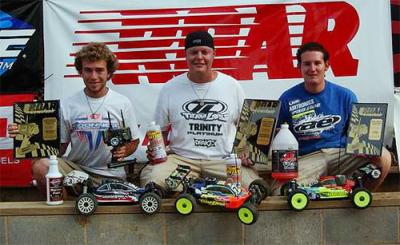 (Drake drove the newly released Losi 8ight to victory for his 2007 ROAR National Championship win.)
LiveRC: Worst moment in R/C?
Adam:
I'm thankful for any day at the track, but I was pretty bummed last year at the 2012 IFMAR 1/8th World Championships. I was running 3-4 most of the race in my semi, comfortably in a transfer spot for the final and ran out of fuel. It's easy to look back and say I should of done this or that, but at the end of the day "it's racing"
LiveRC: Outside of R/C, what are some of your hobbies and things that you enjoy doing to get away from the daily grind?
Adam:
I'm pretty much R/C 24/7/365, but I love to get away with Ronda and relax from time to time. I also enjoy bowling and watching MX and SX.
(Drake puts on quite a show at the annual Psycho Nitro Blast with his legendary "Rocket Car".)
LiveRC: One thing that most people don't know about Adam Drake?

Adam: Ah… We have two dogs, I wear a size 15 shoe, my favorite food is Mexican food, I was born in Michigan, I lived on an Island for 9 years in South Carolina, I was adopted, and I love candy

LiveRC: Adam, thank you so much for joining us today! Is there anything you would like to add?

Adam: Thank you to everyone from LiveRC.com for making it possible for people from all over the world to watch R/C races from the comfort of their home. Also thank you to all my amazing sponsors: Team Losi Racing, Nova Rossi, Pro-Line, Competition Heat, Tempgun.com Horizon Hobby, Nitrotane Fuel, Spektrum, Hitec, UpGrade R/C, Lunsford, Tekin, Thunder Power, and Pro-Motion T-Shirts!
JOIN US NEXT WEEK FOR ANOTHER EDITION OF "TALK-IT-UP TUESDAY!"